Last night, I saw Scotty and the Secret History of Hollywood, a new documentary by Matt Tyrnauer about Scott Bowers, Hollywood's ultimate serviceman. The documentary, inspired by Bowers's tell-all memoir, Full Service: My Adventures in Hollywood and the Secret Lives of the Stars, is promising in its subject matter but ultimately fails to deliver.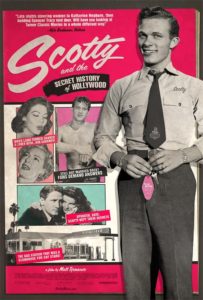 Bowers's life—as manager of tricks across Los Angeles and America to Hollywood's biggest stars—has been driven and defined by pleasure. Bowers himself plainly states how living through WWII as a US marine made him exit the war wanting to live life to the fullest, construed through bodily pleasure. From three-ways with Bette Davis (with Bowers and another man, because Bette loved that D) to three-ways with Cary Grant and Randolph Scott—not to mention countless orgies—Bowers lived the Hollywood dream. He was the original sexy-time Facebook: He connected closeted stars and industry insiders to a coterie of well-hung tricks he managed at the gas station he worked at on Hollywood Boulevard throughout the 1940s and 50s. He even found Lezmates for the ladies, like Katherine Hepburn. (And he reaffirms, in the documentary, that "Hepburn and Tracy" was nothing but a romanticized American Dream—they did not have a sexual relationship.)
The documentary's problem, for me, inheres in the abundance of material; the director cannot seem to figure out what to make his primary subject: LGBT Hollywood? Bowers's life as a marine? As a child turning tricks in Chicago? As a "pimp to the stars"? Bowers relationship with his second wife (who seems to carry a deep disdain for her husband's earlier, "secret" life that she apparently knew nothing about prior to the publication of his memoir)? Bowers's disgusting hoarding problem, which gets worse and worse throughout the shooting of the documentary, to the point where his wife is tempted to report elder abuse for having to live in such filth? Bowers's Cat Fancy fetish? The two skunks he feeds nightly?
The director's inability to focus is magnified by the weak framing of shots, which conveys a weak directorial eye and perspective. The shots are disconnected, random; there is no flow to the footage. There is no continuity in perspective; the director's sporadic interjections (as the disembodied voice that speaks from behind the camera) is disconcerting. What comes across to the audience is the director's interest in Bowers but little artistry in the structure of the documentary. (The Digital Age dictum of "pointing and shooting = masterpiece" does not hold for actual film.) The redeeming moments are found in the interviews, with Hollywood film critics and experts, and with Bowers himself.
Most refreshing, and satisfying, is Bowers's ethics: He takes full accountability for his life's actions; therefore, he has lived with no regrets. This attitude is not popular today. There is no doubt that, for example, his unmitigated acceptance of screwing around with a gaggle of Catholic priests in Chicago throughout his childhood, and articulating his agency in giving them all blow jobs and loving it, is a world away from today's culture framed by (and which, arguably elevates) victimhood.